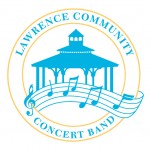 The Lawrence Community Concert Band, based in Lawrence Township, NJ, consists of 35 – 40 volunteer musicians (wind instruments) from the smallest woodwind, the Piccolo, to the largest brass instrument, the Tuba.  The band enjoys playing many different kinds of music, including Broadway show tunes, Sousa marches, Americana and classical and semi-classical numbers.
A wide repertoire of enjoyable music.
Rehearsals are held each Thursday from 7:00  to 8:45 PM at the Lawrence Township Senior Center located on Darrah Lane, Lawrence, NJ.  We are a collective of community volunteers who play for the "love of music."  The monetary donations we receive from performances are used to buy music and accessories.
Please check back often as we continue to build our new website.